Advanced Endodontic Therapy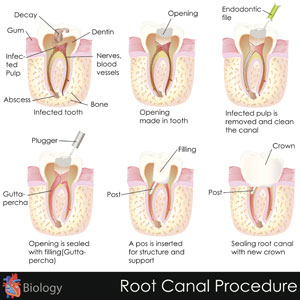 If you've never visited an endodontist before, the primary question on your mind might be, "What exactly is an endodontist?" To put it very simply, an endodontist is a specialist who performs root canals. While most dentists have some knowledge and experience with root canals, a true endodontist has completed at least two years of training and education beyond what is required to become a dentist. As a result, endodontists have a clearer understanding of how to effectively treat teeth that require endodontic care. As a result, many dentists prefer to send their patients to an experience endodontist rather than trying to tackle those difficult cases themselves.
What Is a Root Canal?
A root canal is a special procedure designed to help patients save and restore an infected. The causes of a tooth infection can range from deep cavities to cracks and trauma. When one or more of these occurs, an infection can develop at the center of the tooth, where the dental pulp resides. During your procedure, Dr. Ching will make an opening on the biting surface of your tooth and thoroughly clean and disinfect the canal system inside. Next, biocompatible materials are used to fill the canals to their apices. A temporary filling finally placed to protect the root canal until you can return to your dentist for a permanent restoration.
Do Root Canals Hurt?
With today's advanced tools and treatment techniques, plus comfort solutions like sedation dentistry, we're glad to say that patients will experience no discomfort or anxiety. If you have questions about the treatment process or about any of the tools used to deliver care, don't hesitate to let Dr. Ching know during your consultation.
Will My Procedure Require a Follow-Up Visit?
Because an abscessed tooth can take as long as two years to fully heal, someone—whether it's Dr. Ching or your normal dentist—will need to examine your tooth periodically to ensure that it's healing. The first of these exams should occur six months to a full year after your permanent restoration has been placed.
What Are the Signs that I Might Need a Root Canal?
The most commons signs that you might need help include:
Sensitivity to hot and cold foods
Pain when you bite down
Lingering pain that lasts longer than 30 seconds
Pressure or a dull ache in your upper teeth
Persistent toothache or swelling in the gums
Are you experiencing any of these? We invite you to call Apex Endodontics to schedule your consultation with Dr. Ching. We glad to offer quality endodontic care to patients in Honolulu and Kailua-Kona.